Invite Contacts - Text and Email Verification Codes - First Class Plan
Overview
Once the initial announcement has been sent to contacts letting them know about
ReachWell
per
THIS
article, you will then send your contacts (i.e. families) their official text invites with their verification codes.

For instructions on how to remind contacts to verify on the ReachWell app after you've sent the initial invite email and/or text please visit THIS article!
Instructions
To begin, please view this brief video or review the instructions below.

This section provides detailed steps for sending out bulk emails and texts to your contacts inviting them to
ReachWell
. These communications will include their personal verification codes.
Select your school and then Search.
Select the Select all option to select all contacts across all pages.
Scroll to the bottom of the page to select Choose a Bulk Action.

Select Send SMS Invite to Unverified Contacts or Send Email Invite to Unverified Contacts and then Go.

Select Yes to confirm.


This will send a text or email to all unverified contacts with their ReachWell verification codes.




Contacts that have verified will not get a text message or email, even if they are selected.
Here's a preview of how the text will appear where "Community High School" is your organization's name.

Here is a sample email with instructions to download the app and the contacts verification code.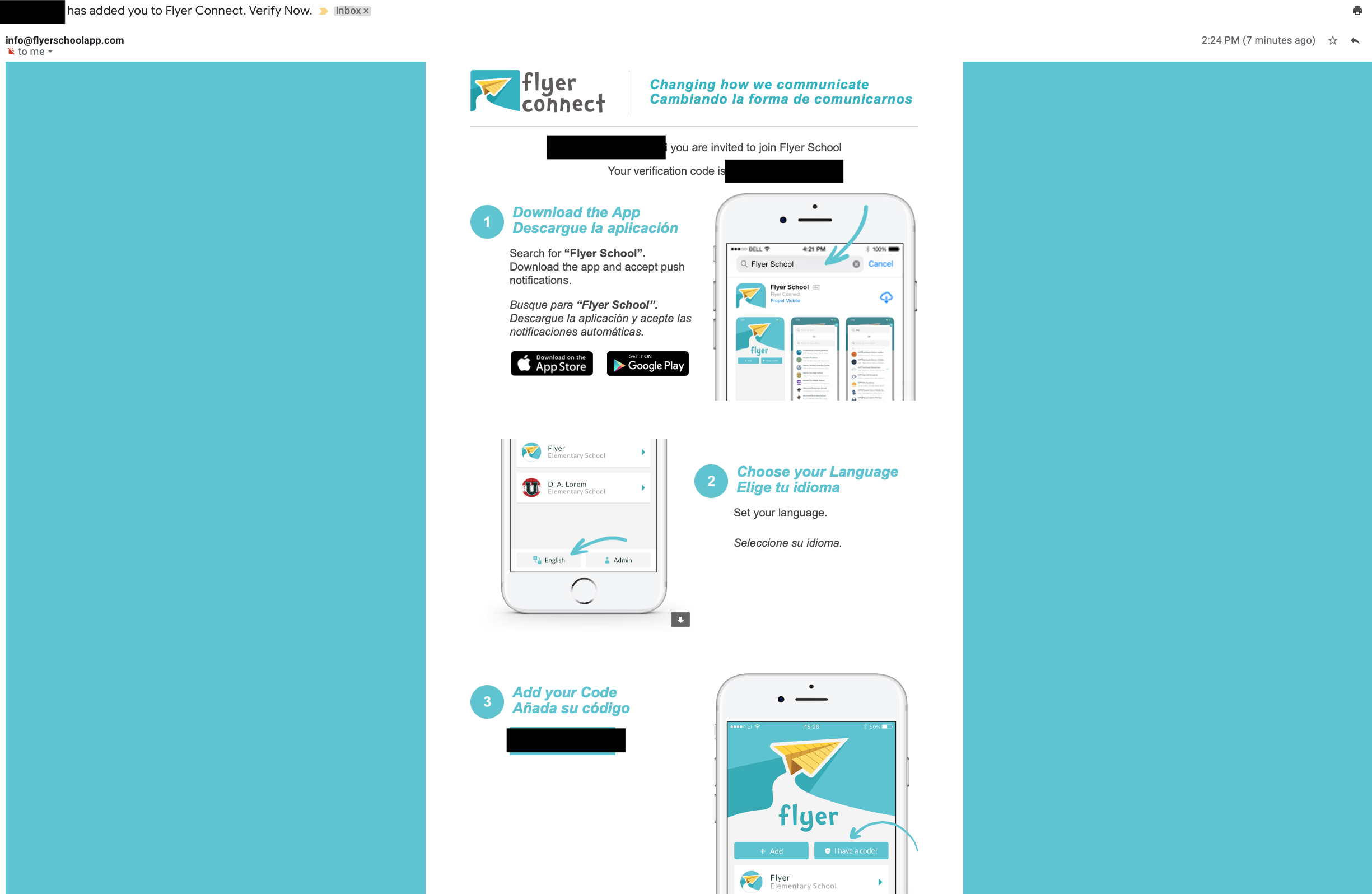 Please note:
If you prefer to customize the content of your messages, you can do so by sending messages via your ReachWell
Dashboard
>
Messages
>
Create Annoucement
page; however, personal verification codes will
not
be included in those messages, and the text will go to all contacts, both verified and unverified.
Click
here
to subscribe to status updates through our
ReachWell
Academy channel on the app.
Related Articles

First Class Plan: Tips for Encouraging Contact Verification

Overview For organizations utilizing our First Class plan, it is important for contacts and families to verify themselves when they navigate to your school or organization from their ReachWell app as this will provide them access to private groups, ...

Overview: First Class Plan

Overview ReachWell offers three plan options to organizations; First Class, Economy, and Free Forever. This article details the options provided to our First Class clients. For more information about the various ReachWell plans, please click HERE! ...

Inviting Group Contacts on the App

Send Email or SMS to Unverified Families ​ To send an invitation requesting that your group's contacts verify on the ReachWell app and join your school or organization, please: Navigate to your Dashboard > People > Contacts page. Click the button ...

First Class/Economy Plans: Manually Creating & Managing Contacts

Overview For organizations utilizing our First Class or Economy Plans this article provides instructions for manually adding and editing individual contacts in ReachWell. Contacts are the family members or guardians of students who are using the ...

Turning on the Verification Popup - First Class Plan

Overview This article reviews how to turn on the verification popup, which will request contacts (i.e. families) to verify when they enter into your ReachWell page. When the popup is turned on, contacts are able to reply to broadcast messages. ...